Visit the Museum of Ontario Archaeology
The MOA is committed to enriching lives through knowledge. Archaeology is a tool to tell stories of how our ancestors lived. It's how we connect to our past and our "shared human heritage." Archeology is ultimately about people and connection through storytelling. A variety of enriching programs are available, including Diggin' Your Birthday for kids. It's a unique way to celebrate birthdays in a fun and engaging way!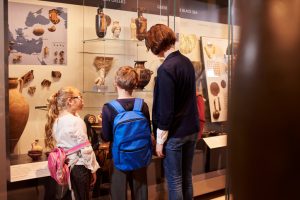 Camps for kids take place throughout the year, and daily museum tours let visitors get a better peek into their past. Discover what the world was like 500 years ago in a re-imagined Neutral Attawandaron Iroquois village. Permanent exhibits include the Southwestern Ontario: 13,000 Years in the Making exhibit that takes visitors from the Ice Age to modern times.
Walk Into History
Don't miss the Roots of a Nation exhibit, which explores the First Nations culture of Canada. Find out how they evolved and thrived over the past 1,000 years. Learn about traditional medicines and plants, and see for yourself the clothing, art and basketry of the First Nations. Cabinets of Curiosity is another exhibit you won't want to miss, featuring the 16th century curious cabinets that were popular amongst the wealthy.
Dig in, literally, to the public lab, and check out the Lawson Archaeological Site right outside the doors and overlooking Medway River. The site is 500 years old and was once home to 2,000 residents. What will you unearth at MOA?